"If you don't change your direction, you're likely to end up where you're heading."  Chinese proverb.
Vote for Change?
In the UK we are in the throws of an election campaign.  The main opposition party, and favourites to win, have as their slogan "Time for Change".  Its not unusual for politicians to promise change, and promote themselves as the agent of change.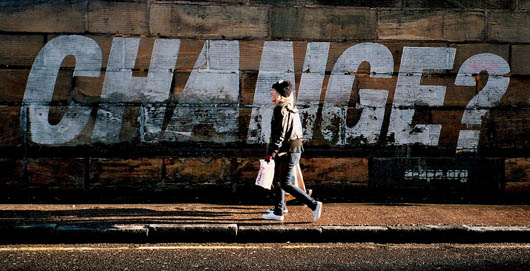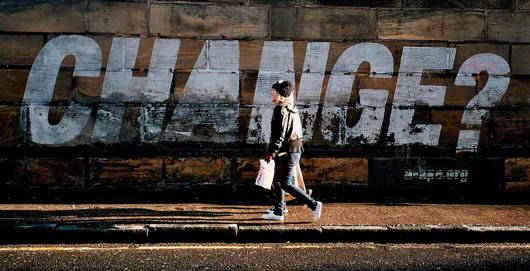 What surprises me is why its considered a winning slogan – when generally speaking we all seem to hate change.  In our day to day lives we stick to ingrained habits – whether its what we eat, what we do, or how we think.
Desperately Seeking Something?
I recently saw an episode of one of my favourite television shows, "Desperate Housewives". Like many locations in TV land they have more than their fair share of disasters and trauma; this episode was the post air-plane crash where several characters were in life or death (or life changing) situations.
The whole show was made up of flash backs and "flash forwards" – what would their life be like if….  Whilst these were big issues they were projecting, it was interesting to see that by scaring themselves with their "if…" projections the characters could make decisions.
The exercise can be equally startling and useful for any of us to do – but project with NO CHANGE IN WHAT YOU DO...
"What would my life look like in 5 years time, if nothing changes?"
It doesn't have to be 5 years – chose whatever feels appropriate.  But remember to ask yourself after you've done it "Is this where I want to be?"
For most of us, change gets forced on us – such as being made redundant or some other crisis. Changing direction when not forced upon us appears more difficult. Even when we're putting up with frustrating or less than satisfactory situations – until we reach breaking point. Its easiest to take the line of least resistance and do what we've always done, what we are comfortable with.
Honey We're Killing the Kids
This was another television show I wrote about a couple of years ago in "what habits do you want to change?" Here they projected, in a quite scary way, what some children would look like if they continued their current poor eating and exercise habits.
Ethically somewhat dubious (what reaction would the kids get at school next day!) the programme, as ever, crammed change into a 3 week time frame. My thoughts then were:-
The idea of doing this sort of exercise is not to scare you or make you depressed. But the statement above ends "if my current habits don't change". If you like what you see, fine, don't change. But if you don't, the answer is simple – you need to make changes in your habits. Don't do what they do on the TV show and make drastic changes in 3 weeks. Using problem solving to decide what changes you'd like to make, then plan how you you do them. Then – action.
The exercise in question being to project your own life as a way of reviewing your current habits and behaviours, as above.  Whether or not you set goals, are you heading in the right direction?
Do you have to wait for a crisis to make those changes? Of course not. And do you have to scare yourself silly with an image of what might happen if you don't change? Again, no, and its not always going to be a motivator. Many smokers, drinkers and over eaters know the consequences of their habits, but chose not to dwell on this image.
But it can be a kick-start, if you are honest with yourself.  Only you can answer whether or not the direction you're heading is where you want to be. And even if you make no changes, you're still heading somewhere!
photo by somedriftwood on flickr