Resources
I thought I'd use this page to review products that I have found useful. There are no links to this page within the rest of the site, so please bookmark it if you want to find it again (control/D)!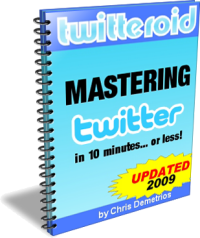 If you have yet to try Twitter, what are you waiting for?!  Follow me – GreatConfidence – but download this free book that gives lots of hints and tips on how to get set up correctly and how to Master Twitter. To get your free copy, then RIGHT CLICK HERE and select "save target as" or "save link as" Please pass this on to others as well.
.
.
.
.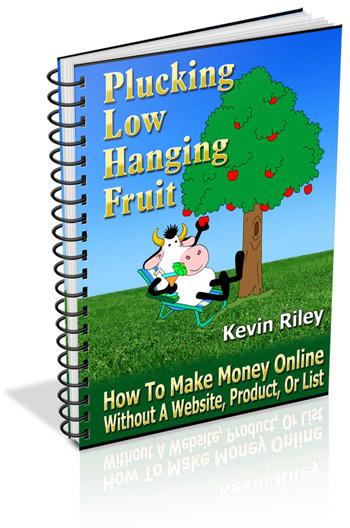 .
.
You may want to download this excellent free ebook by Kevin Riley. It gives sufficient information in a very readable style to do what it says on the cover:- make money online without a product, website or list.
To get your free copy, then RIGHT CLICK HERE and select "save target as" or "save link as".
.
.
.
.


BLOGGING 101 – 36 pages – Special report that covers… 5 Reasons Why Blogging is the New Internet Marketing Tool, All You Need To Know About Blog Hosts, How to Increase Sales Through Streaming Audio, Blog Software For All Your Blogging Needs, The Importance of Blog Design, Boost Your Business With Blogging, Problogging: Making Money From Blogs, Getting started with videoblogging etc. To get your free copy, then RIGHT CLICK HERE and select "save target as" or "save link as".
.
.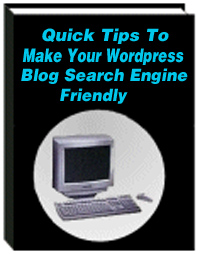 .
Simple to implement tips to help your WordPress blog become search engine friendly and rank higher in the search engines.To get your free copy, then RIGHT CLICK HERE and select "save target as" or "save link as".
.
.
.
.
.
.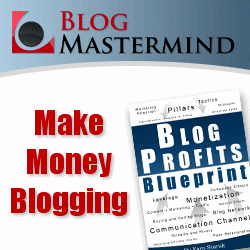 Finally the definitive book on successful blogging by Yaro Starak. Far more substantive than any of the above, he gives a huge amount of free, but valuable content. This time left click the image as you'll have to register at Yaro's site to get the book.
WordPress AffiliatePro
This is a WordPress plugin thats easy to install and easy to set up and customize. Basically it allows you to create an affiliate link for a particular word – and it will "link" it on every page on your site. For instance, one of my "words" is "Vision board", which WordPress Affiliate Pro has now linked for me. OK – I could do that manually on this page as I write it – but it would take me hours to go through the whole of my blog and change every occurrence.
You set up WordPress Affiliate Pro in both the "manage" section of your admin dashboard – where you select which words to affiliate and "weight" them for importance – and under options. In options you can decide on how many affiliate links per page or how many times you want a particular word linked. Also whether you want the affiliate page to open a new page or not (I always do).
The home site has useful videos showing how to set things up (although its quite simple) – I must admit the voice on the videos does sound like the scientist in the Muppets, but you can't have everything!
As of February 2008 there are two new great features of WordPress Affiliate Pro. One is the ability to add "rel=no follow" to any link you create, and thus not get slapped by Google.
The other – for me more exciting – is the ability to create internal links. Normally the software uses an internal tracking system to both cloak the affiliate link and count the number of clicks. This new feature bypasses this and enables you to link any keyword(s) you like with a page or post.
I'm no expert in search engine optimisation (although I'm currently on Google page one for "self confidence"!), but using internal links to build up a linking structure for your important pages or posts seems a no brainer.
Normally it takes hours to go back over your old pages and posts to link them to new stuff – and vice versa. With WordPress Affiliate Pro you can now do it in an instant. My blog is now over a 100 posts old, and I must have used the phrase "self esteem" several times – now with a click I've linked to my home page throughout the site.