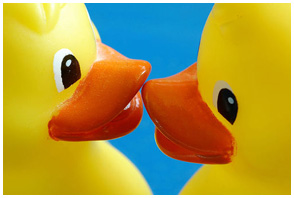 I came across an excellent post on communication, Stop Talking and Start Communicating – which is also a great title. It's main point is that many people talk "at you, over you and around you – in your general direction" rather than with you.
Some of my posts on communication have been slightly apologetic in suggesting we look at improving something we do automatically – such as breathing. But, as the post author Craig Harper points out:-
"Without doubt, communication is the single most important life skill, yet amazingly, the majority of us don't consciously work at developing it. Better communication equals better relationships, and better relationships equal a better life. So why wouldn't we work at it?"
Working at talking with someone, rather than at them, should be a priority for us all. It means being able to adapt what you want to say, and the language you are using, to the particular audience. But moreover it means taking interest in the other person, rather than concentrating on getting your point over.
When we lack confidence, the easiest habit is to get engrossed in thinking about we are going to say next. In a meeting, you compose or rehearse your next point rather than listening to the current speaker. Meeting new people, you focus on creating a good impression with what you are saying, rather than taking genuine interest in them and listening to what they have to say.
To make a friend, be a friend
I don't know who wrote this, but I couldn't agree more. Over the years I have met several people who have had great problems making, and keeping friends. Whenever they meet someone, they've tended to talk about themselves – often moaning and groaning about their problems. If you meet someone like that, you take the first chance to escape.
Craig suggests going further than showing interest, but actually caring about what the person you are trying to communicate with has to say:-
"Caring about what they think, feel, want, need, believe. If people sense that you are genuinely interested in what they have to say, you will create instant rapport and connection. You don't need to 'love' or even agree with them, just respectfully consider their perspective."
This is so important. In theory, its also so easy. Showing interest and caring about what someone is saying doesn't cost anything. It doesn't demand any particular physical attributes or abilities we don't already have. And as a skill to learn, or as a habit to change, its simpler than many other things we have done in our lives. We just stop the main focus being on ourselves.
As an introvert, I'll be the first to say that making a lot of noise and talking incessantly doesn't make people listen to you. If you spend that time listening to others, when you do speak you are more likely to have something relevant to say.
I used to worry about getting myself heard in meetings, rehearsing a possible intervention rather than listening (as in the example above). But learning to listen and be genuinely interested keeps me in the "flow" of a meeting, and able to talk with authority when the time comes. It also helps me to keep awake sometimes!
Apart from building your confidence and improving your communication skills, if you take on board and start practicing this advice, it should be a more enjoyable experience. Life is very boring if the only person you care about is you.
photo by frielp on Flickr