We manage to fill our calenders with numerous opportunities to celebrate. Sometimes to mark personal achievement, milestones such as birthdays, or national festivals. But does celebrating make us happier?
Last month following an unexpected and dramatic win over Scotland, the Welsh rugby team celebrated their victory at their team hotel. Unfortunately for one player, Andy Powell, celebrations went a bit too far. He was arrested driving a golf buggy three miles from the hotel and failed an alcohol breath test. He has since been suspended from the Welsh team…
So how do you celebrate? Do you go out on a bender and end up engaging in dangerous behaviour that ruins your career and makes you the laughing stock of the country?!
Festivals we Celebrate
In We all Need to Celebrate I wrote about some of the different ways we celebrate different national or even international festivals.
Bonfire night, or Guy Fawkes night, celebrates a failed attempt to blow up the Houses of Parliament (our seat of Government) and the King of England in 1605. You could argue that Guy Fawkes, the plot leader, was an early terrorist and wonder at how different life may be today had he succeeded! When I was a child I loved Bonfire Night because we celebrated in our back garden and let off fireworks at will. Today, because of many serious accidents (to children in particular), Bonfire Night is mainly celebrated at organised displays (which I find very boring!)
Other festivals have either quite bizarre roots or involve very bizarre behaviour! Hallowe'en – celebrated in many countries – is perceived as a pagan festival of the dead, although it has its roots in earlier Christian festivals.
I only read yesterday that the annual Cheese Rolling in Gloucestershire has been cancelled – apparently on crowd safety concerns! As you might guess from the video, quite a few competitors get hurt.
It seems the popularity of the event (which dates back to at least the nineteenth century)  has led to its current downfall – thousands of people coming to watch. Chasing a "specially made" 8lb cheese down a hill doesn't exactly get me too excited, but then the combination of "speed" and "out of control" tend to make me ill, rather than happy.
Happy Birthday
Many celebrations, such as birthdays and Christmas,  involve giving gifts. But we also try to mark with some sort of experience – eating and drinking frequently being involved!
As I mentioned in my newsletter, A belated happy 50th birthday to Tony Robbins. Nice of him (or perhaps his marketing team!) to send me an email letting me know this, and how I can also celebrate and "unleash the power" within me at the same time. I passed.
Tony was born on February 29th 1960, as was my sister Susan. Both have had only 12 proper birthdays to celebrate. Susan did not want to make a fuss of being 50 and unfortunately doesn't have a "list" of admirers like Tony.  Fortunately (unlike a previous year!) her husband did remember and she both received a present and celebrated by going out for a family meal.
Enjoy the Experience
The attraction of the festivals I have mentioned is they all involve an experience unique to them.  To participate, even as a spectator, gives you an experience you are not likely to get any other day of the year.
Research has shown that spending money on experiences has a far greater positive impact on happiness than spending it on material goods.  Whilst the impact of a new item soon fades as they become rather shabby, we remember the good parts of experiences, tending to filter out being stuck in the car park afterwards.
And quoting Richard Wiseman again
Experiences promote one of the most effective happiness inducing behaviours – spending time with others. Sociability may be part of the experience itself, or might happen when you tell people about the occasion afterwards.
If you are going to spend money on material things rather than experiences, then a celebration encourages you to spend it on other people.  And yet again research has demonstrated that people report feeling happier having spent money on gifts for other people rather than themselves.
Mothering Sunday
I complete this having just taken my mother and mother in law out, with my wife, for a meal.  Its the first "Mothers Day" we have celebrated without any of our own children (who all remembered to send cards!). Again it was a nice experience and I'm sure for all of us more long lasting than the flowers that tend to be exchanged.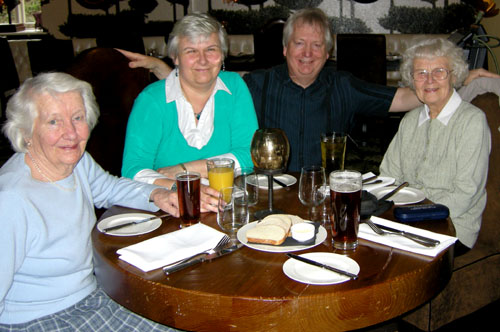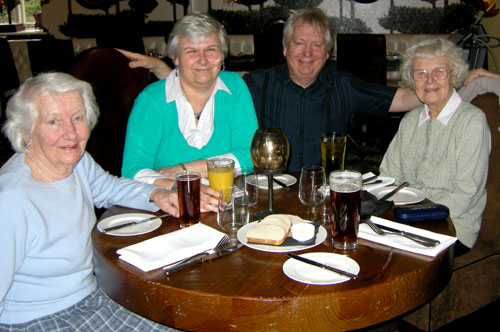 The hotel we went to was the same one we held our wedding reception in, almost 25 years ago. I need to think of some way to celebrate that, perhaps a bit different to going out for a meal. Any suggestions?
I'd love to hear your thoughts on how you celebrate, and is it a recipe for happiness?