I don't know about you, but I dislike the word failure. It's very negative and, to me, sounds quite final. However…
Failure and rejection won't kill you. You may think that it does and it may feel like it almost will just after it has happened. But it won't. Instead it makes you stronger. It makes you more confident in yourself.
That's a quote from Henrik Edberg on his ever successful Positivity blog.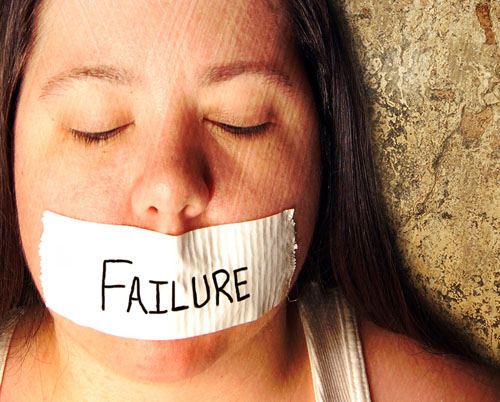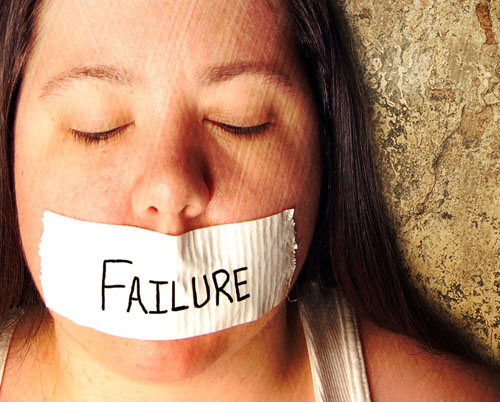 Coincidentally I linked to him the last time I devoted a post to the topic – Overcome a Fear of Failure.  On that occasion Henrik had been quoting Oprah; this time he has 10 great quotes and argues that by failing you build an inner strength and grow as a person.
Do we have to learn from failure?
I've also been drawn to another blog post on the topic, this time by Dragos Roua, who says
I started a personal development blog because I know every imaginable thing about failure. I've been there so many times, I can't even remember. I had failures in business, I had failures in personal and social relationships, in school, in my job (back when I had one) and, generally speaking, wherever you'll find a consistent life niche, you can bet all your money that I had at least one major failure there. And you'll win big time.
In his post, Learning from Failure, Dragos sets out his 6 stages of personal development – very much based on learning from the lessons of failing. I did suggest in a comment on that post that you'd need events to be pretty big, as in his examples (e.g. business failure) to have this sort of effect.
Perhaps my problem is I've never suffered such life events. My life hasn't been a bed of roses, but my early problems from a lack of confidence meant I avoided things. I didn't suffer the angst of rejection or a broken heart, because I didn't have the nerve to speak ask any girl for a date until I got lucky and met my wife, in my mid twenties!
But last week I effectively failed 4 young adults. I interviewed them for a job which they were all keen for, well suited and generally interview well. But there was only one post and the job went to the 5th candidate who ticked more boxes.
Did they gain confidence from the experience, come out stronger as Henrik suggests? From speaking to them afterwards to tell them they were unsuccessful, absolutely not. I cannot imagine how being told there is someone better than you would ever be confidence building.
Does Unsuccessful = Failure?
In Overcome a Fear of Failure I said
No one wants to fail. No one enjoys failure. I'm sure Thomas Edison would have been more than happy if his early experiments worked – or The Beatles had they been signed by Decca! The difference between those at the top and the rest of us is whether we persist after failure – how desperately we want to achieve something.
That quote does miss one important point. At some point people do give up.  The Beatles and Edison ultimately succeeded because they had talent that ultimately paid off.  Many bands try for years to get recording contracts – but will never get one because they are not good enough or not creating what people want to buy. Likewise people have all kinds of crazy inventions that don't have the significance of the light bulb.
Definitions of failure effectively put it as the opposite of success, being unsuccessful. However, failure is a far more emotive word. It does imply an ending. When I spoke to the interviewees above, I said they had been unsuccessful – not "you've failed"!
Don't be afraid of  making mistakes or not getting what you wanted (being unsuccessful) – recognise these things will happen from time to time if you step outside your comfort zone. And stepping outside your comfort zone, learning to cope with the feeling of uncertainty that this brings, is one of the key ways to build self confidence.
Do we need to fail?
Several of Henrik's quotes suggest that overcoming failure, and not giving up,  is part of being successful. Another such quote is from Thomas Edison himself:-
"Many of life's failures are people who did not realize how close they were to success when they gave up. Our greatest weakness lies in giving up. The most certain way to succeed is always to try just one more time."
I have to say I don't agree with him. Part of being successful is being able to reflect and learn; to be able to plan, gather information and make good decisions. Yes, knowing what you want – having goals – is essential. But knowing when to adjust them in light of experience is as important.
"Failure is not a single, cataclysmic event. You don't fail overnight. Instead, failure is a few errors in judgement, repeated every day. ~ Jim Rohn
I don't think the concept of failure is useful in personal development. At worst it will lower self esteem, rather than raise self confidence.  But what do you think? Do you think its is an essential stepping stone, without which success has no foundations?  And do you agree with Henrik, and think it does build self confidence?  Please comment below…
photo by meddygarnet on flickr